Yes, that is a Two Girls, One Cup reference.
This is a review for the second volume of this comic if you want to read my review of the first volume, you can find that here, and if you don't wish to be spoiled for events of the first volume, best avoid this.
tldr; (if you couldn't read that paragraph who are you? why are you here? is it the sassy parenthetical comments?)
*Possible SPOILERS for Vol. 1*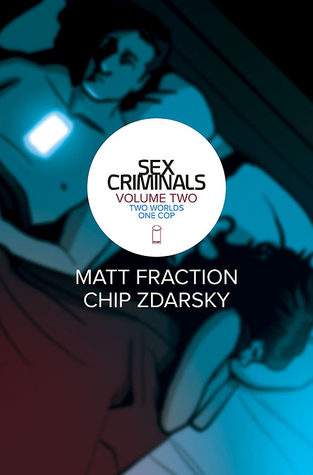 Title: Sex Criminals
Volume # and Title: 2: Two Worlds, One Cop
Writer: Matt Fraction
Illustrator: Chip Zdarksy
Publisher: Image Comics
Collected Issues: #6-10
Page #: 128
Genre: Magical Realism
*This is a Mature comic with Sex in it, duh*
You guys know that I don't often talk about the plot of things.  I find myself lacking in the department of describing the events of books in any sort of enticing way.  I much prefer to talk about the components of the pieces that really appealed to me.
For Sex Criminals it has to be the characters. Obviously the plot is important but I don't read this comic to find out what the outcome of the library is.  I'm reading to see how our main characters are getting along.  They aren't exactly.  They are hitting a bit of a rough patch. They are arguing.
I love how realistic this comic is with its characters. They are flawed.  Real people don't fall in love and stay 100% in love for the rest of their lives. There are ups and downs. There are fights. I just really appreciate how they show that in this. These people had a weird whirlwind relationship in the first comic, they are now exiting the honey moon period. Shit gets real.
*Real* is going to be the buzzward of this review.  I can tell you that right now. Don't play a drinking game you might die.
I also appreciate how realistically they talk about, and portray sex in this comic. People have kinks. Unless you are looking for a fetish book in the romance section its hard to find something that doesn't have both parties achieving simultaneous orgasm in standard missionary position.  On top of that the artist portrays a vast array of body types and ethnicity in equally sexual positions and acts.  Every body is a sexy body, not just the pretty ones.
Basically, what I'm trying to say, is its the real deal, yo.
(I am far too ginger to ever say yo… even when attempting humor. I apologize.)
If you like stories that make you feel like they are real, despite the fact that all the major characters literally stop time when them cum … then please check this out.  It is both heart warming and funny.  These guys have a sense of humor.  I would recommend it in the trades, which is how I'm reading it, but I can't speak to weekly pick ups as I haven't read it.  I am not dissatisfied with having to wait several months between issues.  I like getting the full story in one shot.
This is a goodun' I promise you.
(I may also be too ginger to say goodun' … will report back.)
That's all for today folks. I will talk to you all on Friday when I have my first book review of the summer that isn't a Bibliomancy for Beginners read. Yes, I do read shit on my own. No it isn't all shit. Most of the time I am quite satisfied with my choices. Most… of the time.