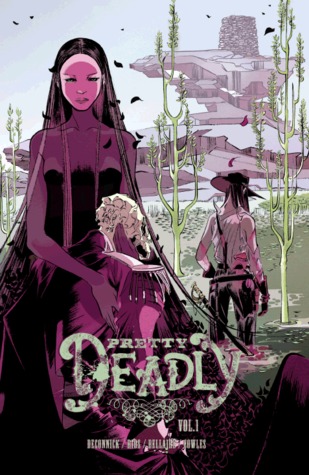 Series Title: Pretty Deadly
Volume # and Title: 1: The Shrike
Writer: Kelly Sue DeConnick
Artist: Emma Rios
Publisher: Image Comics
Collected Issues: #1-5
Page #: 120
I am going to start the new year with the favorite trade paperback I read last year. It was beautifully written and beautifully illustrated. The colors were gorgeous.  All around something worth spending time looking at in detail.  Not only was it visually appealing but plot-wise it left you wanting more and you become invested in all of the characters despite how short it is.
I would also like to note that if you are looking for comics written by women not only was it written by a woman it was also drawn by women. The female character are strong and multidimensional  The male characters are as well.  While some people would worry an all female team might undersell the men in the way that all male teams sometimes do with women that isn't really an issue.  ALL of the character despite gender are fully fleshed out and described beautifully.
This was definitely the strongest comic I read in trade, not just because I was excited to see something created by women but just because it was leaps and bounds above the rest as far as story telling goes. The art was intricate and beautiful. The characters were deep and compelling.  While all of the comics I read told interesting stories they just didn't seem to resonate with me in quite the same way.
I can't wait for more of these but the writer and the illustrator said that they both work relatively slowly so they won't start releasing more until they have the second arc completed.  Which is fine.  I just wish I could have it a little sooner.
What was your favorite comic of last year?  Either on going or that you read in general?  Perhaps both?