*clears throat*
I said that I was going to post a summer wrap up post like two Fridays ago, however it took a little longer than anticipated … soooo HERE WE GO!  THE BOOKS I READ OVER THE SUMMER! *caps locked like a badass*
It would appear that I read 22 books this summer!  I am surprised and pleased with that number.  I feel like I was really in a reading slump so I'm glad I read that many.
The first book of the summer was a Bibliomancy for Beginners kick off: review here.  One Flew Over the Cuckoo's Nest by Ken Kesey is probably my favorite book of all time so definitely read it.  Read it.  Do it.  I command thee.  Well I don't command you, but I politely request that you do so. ★★★★★
.
Next was Kafka on the Shore by Haruki Murakami.  This book quickly became one of my favorite books.  The characters were interesting and I really appreciated how this story progressed.  I loved the way the story was woven together and the writing was beautiful.  I highly recommend it if you have no read it before.  Full review here! ★★★★★
One of my favorite authors was releasing the first new book in the Merry Gentry series in several years so I felt the need to reread the older ones.  I obviously started at the beginning with A Caress if Twilight.  This was the second reread of the summer for me soon followed by the next two books in the series.  I would highly recommend this series as a whole if you haven't read it yet.  Also her Anita Blake Vampire Hunter novels are pretty flawless. ★★★★★
.
The second in the Merry Gentry Series, A Kiss of Shadows by Laurell K Hamilton.  Part of my series reread, though honestly I didn't reread them all, just the ones I could get my hands on.  I remembered more of the plot of the later ones because I had read the more recently. ★★★★★
The third book in the Merry Gentry Series, Seduced by Moonlight by Laurell K Hamilton.  This is one of my favorites from the series as a whole.  I really liked the plot.  If I haven't mentioned before this series involves faeries … traditional Irish faeries.  None of that pansy Disney fairy stuff.  Badass, terrifying, demigods essentially. ★★★★★
Breaking up my reread of the Merry Gentry series was our second Bibliomancy for Beginners book: review here!   This was Rachel's choice and while I really enjoyed it I did still have some issues with the book overall.  The plot was good, the characters were extremely lovable.  Basically all I have to say is that it was good. ★★★★
.
Another Merry Gentry novel, the fourth one to be specific.  This is a surprise … following the trend that was happening earlier.  Not at all.  We can probably shuffle past the next few ones of these. ★★★★★
At this point the new book was coming out in a few days and I still had three more Merry Gentry novels to read, three novels that I didn't have access to because they were not available at my local library and I had not purchased them for myself.  However I did own the last book that had been released, and really it was the only book I needed to read for continuity before the next book anyway.  So I dived straight in to Divine Misdemeanors! ★★★★★
Then this beauty of a book came out!  I read it the day after it came out … but that is still really on top of things.  I have to say that I feel like in the time between these two books Laurell K. Hamilton has grown as an author.  The story in this book and honestly even the last book compared to the early ones was so much better.  They are all great, but I loved how this went.  Although there is one event in this book that crushed my soul in a way.  I never begrudge an author their choices if it seems to make sense with the characters and the plot of the book and while it hurts, it made sense and was the right thing to do. *clutches chest* It hurt though, that is for sure. ★★★★★
I am going to count this book even though I didn't finish it because I read more than 3/4 of the story.  I have a hard time reading war stories in general and especially war stories based around emotional torture.  I can deal with people getting shot, but when a book explores what happens to people in war.  When we get in their heads and see how they think and see how everything effects them it is hard for me to read.  I have to say that this book is extremely well written and if I were another person, without an aversion to war novels it would have been phenomenal.  Check out our Bibliomancy Episode on it here! ★★★
I had been struggling through Code Name Verity and I needed to give myself a break so the next few books that I read were exclusively Bibliomancy Books. The good news with that is that they come with reviews.  The bad news is that my feelings towards them are not always great.  This is not one of those sub par books however.  This was Taylor's choice of a book that he felt we all should read.  Unfortunately I was the only one who ended up reading it and we did an episode just the two of us.  However it was a good book, a good story, I really enjoyed it but I didn't have that much to rave about when we were discussing it.  You might notice that while watching the video here! ★★★★

We come back around to discuss another of my choices for book club.  I am so glad that I got everyone to read this book.  Not everyone loved it as much as I did, but I was able to rope Anna into joining us on this episode as a Guest Mancer and she really enjoyed it.  This book is filled with so many great video game, 80s pop culture, and just generally nerdy references it made my heart sing.  This book made its home in one of my favorite books of all time.  It was so good.  We did have some issues with it but they did not stifle my love toward it or my experience over all.  If you want an unbiased opinion be sure to watch our Bibliomancy episode here because the others had more to say. ★★★★★
The first graphic novel of the summer!  The second in the Saga sequence.  I have to say that while I have to be in the mood to read graphic novels I do really enjoy them.  They appeal not only to my love of stories but also my love of art.  I have always been one to read graphic novels and when I am a richer man I plan on buying many more for myself to keep.  I think that anybody who has read Saga will tell you that it is flawless.  The story is well written and the characters are rich. ★★★★★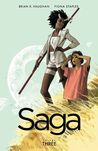 I had fallen a bit behind but literally in the same day I picked up the third bind up and finished that as well.  I have to say that this book does have one of my pet peeves which is that on the spine where they have the little number telling you the order in the series this book goes it is not in the same place as it was in the last two.  KEEP THE SPINE CONSISTENT PEOPLE!  That's the part we look at on my bookcase.  It needs to be beautiful for everyone.  All I ask.  All I ask.  Otherwise another flawless edition to the series. ★★★★★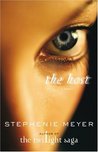 This is another reread for me, however it is more recent.  I read this book in the winter of last year.  I reviewed it back then so you can read my initial thoughts on the novel.  I don't think my thoughts changed much since then.  It isn't a book that blows me away, however it is a good book.  I enjoyed the characters and the story.  I think my favorite part are all of the stories about other planets which is why it only gets four stars.  I didn't care as much about the plot of the novel itself, more about the little things, mechanics and background stories.  It is a good popcorn read if you want something that reads quickly and doesn't require much processing power. ★★★★
Alright, we have another Bibliomancy for Beginners book which has a review for you to watch right here.  Rachel is always one to pick high fantasy novels and where high fantasy novels are concerned I am not the biggest fan.  That being said I felt this book was rather standard.  It seemed to be just another book in its genre rather than anything special and when I am not particularly inclined to enjoy the genre I want something that will knock my sock off.  It was alright.  If you like high fantasy I'm sure you will enjoy it, it just wasn't for me.   ★★★

To give some perspective we followed that book up with this one.  This was Gretchen's pick and I have to say that I don't think any of the Bibliomancers were a fan of this at all.  Taylor just saw that I rated this book two stars and was surprised I rated it that high.  I have to agree that I am not a very big fan of this book, but it wasn't utterly terrible.  It wasn't good either.  Really it was disappointing.  There were things that excited me about the prospect of this book and it did not live up to it in any way.  I would recommend watching our video to hear our full thoughts on why this book maybe isn't for you if you if you are interested: here. ★★

I was lucky that I followed that book up with one that made me absolutely giddy.  This is perhaps the best book I read this summer.  It captured me from the very beginning and I absolutely could not put it down.  I forwent sleep, reading until early in the morning.  This is a book that I think every bibliophile or role playing nerd would die for.  Not to mention the fact that the book glows in the dark.  It is flawless.  It makes me so happy.  I love it dearly and if there is any book I read this summer that you should read.  This is one of them.  If you want to hear me rave some more then check out my full review of it here. ★★★★★
Taylor's next Bibliomancy book choice. I really enjoyed it.  It was more a collection of short stories with a certain thread of thought.  There were some stories that worked together better than others.  I would say that most people agree Bradbury is one of those authors that if you like science fiction you should jump on this.  It was well written and relatively short.  I say it was good.  You should read it and then listen to us discuss it in detail here. ★★★★
I then went back and read a paranormal romance book.  Along with Laurell K Hamilton's books I still like to check out the books that Kresley Cole has been writing.  I did a series review of her Immortals After Dark series, which this book is one of that you can read if you want to know more about my thoughts on paranormal romance and this series in general.  This book was definitely not my favorite in the series but it was still better than some books that I've read in the genre. ★★★
The summer was coming to a close and I saw another commercial for the Horns film that is coming out soon?  When?  I don't recall but I plan on seeing it when it does come out because this book was very good.  This is my first Joe Hill novel and I have to say that I utterly enjoyed it.  I like the way the story flowed and the plot over all.  There were some aspects of the story that were a bit predictable and I'm not sure I was completely satisfied with the ending, but in any case I enjoyed the experience and if you like magical realism then this is definitely a book to check out.  If you want to know more I also have a full review for you here.★★★★
The last book I read before classes started and my life became over run with work to do was this graphic novel.  It was on Taylor's suggestion and his copy of the book.  The story to this book is really great and the characters are even better.  It reminded Taylor and myself as well of the Dungeons and Dragons campaign that I run when they grow up.  The magical girls campaign is beautiful.  Honestly this book is as well.  If you like fantasy stories or role playing I recommend giving it a look.  It has all the whimsy and all the in jokes that we love.★★★★★
Wrap Up:
★★★★★: 13
★★★★: 5
★★★: 3
★★: 1
★: 0
Rereads: 7
New reads: 15
Graphic Novels: 3
Young Adult Novels: 3
Adult Novels: 16
All in all, a really good reading summer.  I think this was pretty good.
What did you read this summer?  What did you think of any of the books I read this summer if you've read them as well?  I'd love to hear from you in the comments.