I know you all wait impatiently to hear what I plan on reading this month.  Admittedly I didn't read as much I had wanted to this summer, but I'm hoping to be a better reader this fall.  I'm working on my time management skills so that hopefully this isn't too burdensome of a task for me.
The book I am currently working on is This Book is Full of Spiders by David Wong, the sequel to John Dies at the End.  Also, yes there will be some sort of post about John Dies at the End but Taylor and I were the only ones to read it once again and we grow tired of live chats consisting of just the two of us.  So like we did with Aristotle and Dante Discover the Secrets of the Universe we may just converse with you through text.  Until then you can always read my original review of it and wait for my thoughts on the sequel.
This semester my English class is on modernest literature and our first novel is Howards End by E. M. Forster.  We will be focusing on the works of the Bloomsbury group and as of this moment I am kind of excited for it.  Despite the fact that this group of aristocrats in the early 20th century were kind of "morally corrupt" in the eyes of their society doing all sorts of queer things but they were searching for truth as I understand it.  I am interested to see how that translates into their novels.
.
The second novel we will be reading is A Passage to India by the same author.  The first novel is supposed to be a bridge into the thinking of modernist literature to help acclimate us to the way the writing flows.  This however is apparently a true modernist text in full swing.  Can't wait to get started on it.  The industrial revolution is my favourite era in history I think.  At least when I go back farther than the middle of the last century because I am really interested in modern times.  Things that have happened recently are many and consequential.
.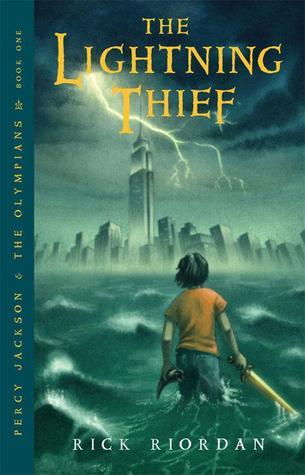 I have been feeling bad about the fact that I never read the Percy Jackson and The Olimpians series growing up.  That is why I plan on beginning a series review by reading The Lightning Thief by Rick Riordan.  I may elect to read the whole series this month, I might draw it out, I may simply decide that it isn't for me.  In any case I plan on at least reading this one and getting back to you on my thoughts.  I know it is a series near and dear to many.  Though few can boast a love of a children's series as strong as my own for Pendragon.
.
Another series I have been feeling bad about not reading, especially after loving A Monster Calls so much I decided to pick up The Knife of Never Letting by Patrick Ness.  I read so few young adult novels with male protagonists and even fewer with male authors.  I really love Patrick Ness's writing, so I'm looking forward to seeing what this trilogy has to offer me.  I have seen people rave about it and other that were not as impressed.  I wonder what I will think about it.
The last book I plan on reading this month is Battle Royal by Houshun Takami.  I bought this book last spring.  Can you blame me?  Look at this glorious cover.  I have been endeavouring to read more books that are written by non American or British authors and here is another one.  Perhaps I will need some excitement while reading those modernist texts, I'm not sure.  If I don't get to it this month, I plan on getting to it soon.  It needs to be done.  It needs to happen.
.
So how about you folks?  What are you planning on reading?  You can link your TBR in the comments below or just tell me about it really quickly?
Have you read any of these books?  Are there ones you want me to do sooner rather than latter?  Do you think I will like them?
My school year has started.  Good luck to those like myself who are getting back to work.  I hope the darkness that eats all things looks kindly upon your work.