WARNING!
Oh may gosh these book have adult content.  They have the sexy times.  If you do not think you are old enough to read about sexy times then perhaps this series is not for you.
Because this series is aimed at adults I feel like I will take the liberty to swear more than I do here usually.  Just a little.  Perhaps more than necessary but I feel like I can.  This is a safe environment to do so.
You have been warned.
Okay so.  This series discussion is partially a throw back to my time in high school.  Right before my freshman year in high school I read that thing called the Twilight series and then I read the Vampire diaries series and then I was like what next?
My mom graciously gave me The Southern Vampire series (which I enjoyed up to about book seven and then was a little iffy on [I think I still haven't read the last one and I'm not sure if I plan to]) and the Anita Blake series (which is still one of my all time favorite series of anything ever [I am all caught up and will keep on reading thank you very much!]).  However unlike those first series up there.  These two series were very much adult series.
There was sex.
When I finished Anita Blake, which at the time had nineteen books I found myself in a hole of wanting something similar.
Luckily I had a friend who lent me her favorite books in the paranormal romance genre. A handful of those books were from The Immortals After Dark series by Kresley Cole (and some other series which I may talk about later).
I read a handful of these out of order and I would say that this series in particular makes space for that.  While there is an overarching plot happening the books jump around in the timeline of that overarching plot quite a bit (and or are happening concurrently).  You may not get all of the referances to characters that are being made if you pick up the last book in the series first but Cole supplies a glossary of terms so that you can catch up on the rules of the world before hand. You will be perfectly fine.
This past month a new installment was released and I haven't read it yet.  I will probably get it eventually but as has been apparent in many of my recent posts I have been drawing away from the paranormal romance genre in general.  It isn't something that interest me right now, and if I'm not excited to read it, I don't think I will enjoy it as much.
However, I did want to mention how much I enjoyed this series and perhaps talk about some of the issues I saw when thinking back on the books I had previously read when looking into that new book.
I'm going to supply these books in chronological order and tell you which I think are the strongest.
Title: The Warlord Wants Forever
Author: Kresley Cole
Publisher: Simon & Schuster
Page #: 163
Genre: Paranormal Romance
I remember enjoying this short story as the whole however I don't think it is much different from many of the other stories in this series.  It is I think only available as an e-book so if you like the rest of the series it would probably be a good fit however it is not necessary to read.  I would however like to say that Myst is one of my favorite characters in the series as a whole if that makes this more enticing.
Title: A Hunger Like No Other
Author: Kresley Cole
Publisher: Pocket Star
Page #: 356
Genre: Paranormal Romance
This was the first book in this series that I read and I have to say that it is the one that sold me on it.  It is will written with interesting characters.  One of which being a Scottish werewolf … what else do you need in a paranormal romance book?  To use some fan fiction terms here there is some questionable consent and a whole lot of angst but if you are into that then by all means.

Title: No Rest for the Wicked
Author: Kresley Cole
Publisher: Pocket Star
Page #: 356
Genre: Paranormal Romance
Look at these romance covers.  Aren't they great folks?  People know what you are reading.  I had a substitute teacher tell me I was unclean because I was reading this baby while we waited for school to be over.  Unclean!  It is hilarious.  This book in particular is one of the most original in the series.  Here we get to learn about the lore a little bit and it includes basically a supernatural scavenger hunt.  I loved it.  Would recommend!
Title: Wicked Deeds on a Winter's Night
Author: Kresley Cole
Publisher: Pocket Star
Page #: 359
Genre: Paranormal Romance
So far we have vampires on the left and werewolves on the right.  This is actually kind of amusing.  This book also takes place during the games like the last one however much of the plot takes place after the games.  More werewolf angst but Bowen is such a sweet heart I can't stand it.  He is one of those characters I want to wrap up in a blanket and set by a fire with some cocoa to make happy.  I want all his happiness.  This story is super sweet so if you are into that.  This one is for you!
Title: Dark Needs at Night's Edge
Author: Kresley Cole
Publisher: Pocket Books
Page #: 368
Genre: Paranormal Romance
Now this book I think is my actual favorite in the whole series.  It is extremely angsty and extremely sexually frustrating but it is also the sweetest book in the whole series.  I think that for the most unpredictable male lead he is also the most respectful of his "mate's" wishes out of all of them.  Although I'm sure some people would argue with me on that front.  I think I also just have a specific kink for sexual frustration and this book delivers on that.  The female lead is an incorporeal ghost. *laughes*
Title: Dark Desires After Dusk
Author: Kresley Cole
Publisher: Simon & Schuster
Page #: 368
Genre: Paranormal Romance
Plot twist this books male lead is not a werewolf.  He is a demon.  Perhaps better?  They have sexy horns.  If you are into that.  This book is painful because you watch these two fall in love and then the male lead utterly fucks up.  He does perhaps the worst thing possible.  You want to bash his head in for actually doing what he does.  However it all works out in the end.  These are romance books, they all have happy endings.  It is the one thing you can expect from all of them, even with the overarching plot appearing to be the coming of the end of the world.  (I think that is a trend in paranormal romance book series).
Title: Kiss of a Demon King
Author: Kresley Cole
Publisher: Pocket Books
Page #: 417
Genre: Paranormal Romance
From one demon to his brother.  This book is SUPER ANGSTY.  The female lead fucks up royally at the beginning of this book.  There is some more questionable consent/rape.  Depending on what part of the book you are talking about.  It works out in the end but it is kind of uncomfortable in that vein.  This book happens at the same time as the last one and describes what the other half of the Woede was doing while his brother woos his own mate.  I like the other brother's story better but Rydstrom is kind of really sexy to me.  I'm not sure why.
Title: Deep Kiss of Winter
Author: Kresley Cole and Gena Showalter
Story Title: Untouchable
Publisher: Pocket Books
Page #: 256 (426 for both novellas)
Genre: Paranormal Romance
Here is another sexual frustration story, however I was less into this one.  I'm not sure why.  I still loved it and it is probably in my top five in the series despite it being another short story.  Here we have a female who can't be touched by her male because she is of a species where his body tempurature would burn her.  Obviously they get around it in the end.  It is crafty how they do it though.  You should definitely check it out.  We also finally have a vampire over here on the right.  Woo!  Though his brothers' stories are up there on the top left.
Title: Pleasure of a Dark Prince
Author: Kresley Cole
Publisher: Pocket Books
Page #: 431
Genre: Paranormal Romance
This book is a hunt story.  The girl constantly running from the guy.  Not because she doesn't want him, but because she does and that is detrimental to her goals.  It was an interesting twist on what has up to this point been the same sort of story.  Guy wants girl, girl is unsure.  Although the last book had the guy being unsure.  Here we go back to the guy knowing what he wants.  The girl also knows what she wants, she just can't have it.  Of course she will get it in the end won't she.  She might also assist in the raising of an ancient evil deity?  Who knows?
Title: Demon From the Dark
Author: Kresley Cole
Publisher: Pocket Books
Page #: 430
Genre: Paranormal Romance
Now this is definitely my second favorite.  It is also one of the most unique plot arks in this series.  It also introduces an element that will be a main factor in the rest of the series and that has been almost nonexsistant in the books up to this point.  There is a faction of humans who know about the supernatural creatures and are capturing them to study them.  You will have to read how that plays out and effects the plot of this book with another huge sexy demon male.  (who may or may not have genital piercings… *coughs* he definitely does *coughs)
Title: Dreams of a Dark Warrior
Author: Kresley Cole
Publisher: Pocket
Page #: 515
Genre: Paranormal Romance
I haven't mentioned up until now, but I actually really like these covers with the monochrome (sometimes grey scale covers).  I mean they are still obviously romance book covers, but they ARE romance novels.  What can you do?  This book introduces a new species of immortal to the mix.  One, not born or made but who earns their immortality.  It was incredibly interesting.  I recommend finding out how exactly that works out for him because this book is probably my third favorite.  The plot and characters are flawless.  Regin is my absolute favorite character out of them all.  I loved her with all my heart.  She is such a sarcastic little shit.  Best.
Title: Lothaire
Author: Kresley Cole
Publisher: Gallery Books
Page #: 468
Genre: Paranormal Romance
This book is one of my favorites in the series if only because it is one of the most satisfying to read.  It has as the male lead Lothaire (as would be expected) who has shown up in more of the previous books than any other character save for Nucking Futs Nix.  When you read the books you will understand that referance.  If you don't get it already.  It has a little bit of kidnapping in it though.  The male lead is kind of Chaotic Evil/Neutral.  There is a reason his name is The Enemy of Old.  He is an incredibly interesting character, one of the best in the series.  Worth reading the book just for all of his lines and the ability to read from his perspective.  I also may have a soft spot for asshole characters but we won't get into that.
Title: Shadow's Claim
Author: Kresley Cole
Publisher: Pocket Books
Page #: 448
Genre: Paranormal Romance
I don't want to say that this book was my least favorite because I liked all of them.  I enjoyed all of these books.  Every single one of them.  However, it is definitely one closer to the bottom.  We have some new/better/different vampires here.  It is definitely exciting.  However I'm not a huge fan of the main male lead fighting in a tournament to the death to have his mate.  It kind of defeats the purpose of the plot.  We know he will succeed.  He has to.  If you can look past that then it is still worthwhile to read.  If not, no big deal in skipping this one and reading one of the other ones.
Title: Macrieve
Author: Kresley Cole
Publisher: Gallery Books
Page #: 368
Genre: Paranormal Romance
Now this is the books that I have read most recently.  By that I mean that I read it like two weeks ago.  This sort of shows my trajectory of how long it will take me to get to the newest one.  I just have to be in the mood to read it.  I wasn't particularly impressed with this one.  It was kind of taken out of context.  There was very little plot and a whole lot of EXTREMELY ANGSTY romance.  It didn't feel like it had a proper story arch.  It just happened and then there was a danger thrown in out of nowhere in the last bit that was resolved almost as quickly.  I think this story was more to set up a future story that has more plot and give some background on some characters that have made appearances in other books than anything.  Another that could possibly be skipped.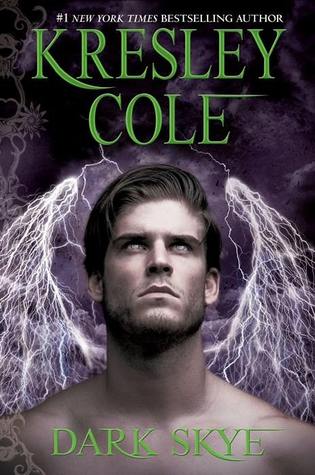 Title: Dark Skye
Author: Kresley Cole
Publisher: Gallery Books
Page #: 432
Genre: Paranormal Romance
Here we have our newest edition.  I have not read it yet so I have no idea how it is.  Perhaps once I read it I will give it its own review, or just come back here and add it in.  Who knows?
.
.
.
I really enjoy this series.  I know it can be a bit repetitive in the subplot of the novel at times.  There are definitely some gems in here though.  It also has one of the strongest overarching plots of all the paranormal series I've read.  There are also quite a few moments in many of these where the consent is questionable that many a feminist would shout about.  Can you look past that?  Is it okay too?
Have you read any of these?
Would you?
Do you read paranormal romance books or are they too "unclean" for you?
I have to say they are my popcorn reads.  I can read one of these in a few hours and come out at the other end pleased.  Well … that was a dirty pun I didn't mean to make.  Whoops.
I think I'll leave on that note.