So while I used to read two books a week I sort of stopped doing that because of stress in general and being super annoyed at genres and books and myself.
This week I am doing a companion read that is in no way related to the book club book.
I am going to talk about The Host, so get ready for my feels.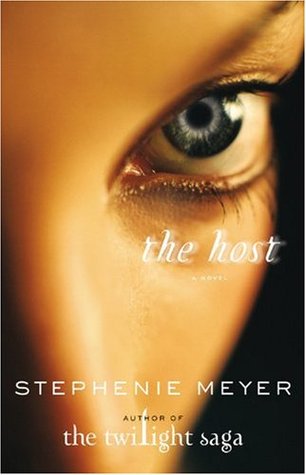 Title: The Host
Author: Stephenie Meyer
Publisher: Little Brown and Company
Page #: 620
Genre: Science Fiction/Dystopian
So, let's talk about the elephant in the room.
*cough* Stephenie Meyer and the whole Twilight phenomenon *cough*
It was super popular so everyone decided to hate it.
I get it, I do.  I know the problems that are inherent in Twilight.  I will stand by the fact that when I read that series at thirteen it entertained me.  I will also stand by the fact that it created a generation of readers.  There are people who didn't read a lot until the read Twilight and now they do and I think that any book that is able to do that is alright by me.
Today we are not talking about sparkly vampires, we are talking about parasitic aliens.
I read The Host for the first time a little over a year ago and I loved it.  I read it before the movie came out so that I could watch the movie and know the ins and outs of what was going.  Honestly the movie was more entertaining to make fun of than it was as a movie in itself.  Watch it if you want, but the book, like 95% of book to movie adaptations is better.
I reread The Host while I was in New Hampshire on my spontaneous vacation.  When Taylor saw I was reading it he did the normal "You're reading The Host Again" scoff.  Which I simply replied with, "I like The Host, it is interesting."  The whole parasitic alien thing isn't exactly unique but I honestly don't like science fiction involving aliens … like ever (this is from a traumatic experience I once had as a child which I can tell you about at a later date).
Yes The Host is a romance book.  Yes The Host has a love … triangle … quadrangle … something?  However, it is an extremely well done love … quadrangle.  I loved the way this story plays out.  I felt like the pacing of the plot and the growth that the characters experience was justified and not plot driven in any way.  I usually hate love triangles because they are just there to add tension.  This love triangle was created by the situation the characters were in and was worked through in a way that didn't seem like one character pining after another who loved someone else … etc. etc.  It was an interesting take.
It is not a very thoughtful book, it is definitely what Gretchen would call a Popcorn read.  You read this book to enjoy the ride, because it is sweet and entertaining, not for its literary value.
I love reading books that make me think, but I was on vacation and I don't want to be having philosophical epiphanies while on vacation.  I wrote a story about porn stars for goodness sake.
My favorite part about this novel are the stories that Wanderer tells the humans.  It is the one thing they took out of the film.  Which is understandable because they would have needed an astronomical special effects budget.  The interesting part of this story. The thing that sets it apart from any other weird romance book, is the fact that our main character is parasitic alien who has lived countless lives on various planets as various species and the stories she can tell about those lives.
If you enjoy science fiction then maybe this book isn't for you, because it isn't the best in its genre, however if you are looking for an easy read to get your mind of things for a while, by all means check it out.  It has interesting stories within it and it is a heart warming story.  I feel like I read somewhere that Stephenie Meyer was working on a sequel.  I don't know if she still is, but the story works fine on its own.  It doesn't need to be continued in my opinion.
Overall I give the book a four out of five stars for being entertaining but not outstanding.  It was good.  It helped me get out of my reading slump.
I hope you guys enjoyed this little review and I will be back on Sunday with some KPop Spam.  (I had this playlist put together like three weeks ago and just never wrote up the blog post because of my hiatus)